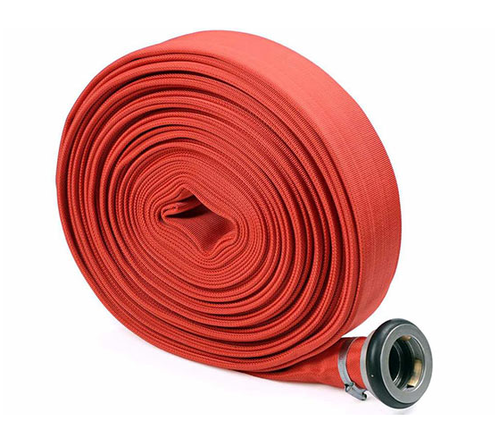 The people who work in industries like mining, automation, petroleum, oil, and gas chambers require a body and heat protector. The chaotic and critical situation under those mines is really dangerous, only those people can work who are well trained and educated about those areas only with proper precautions and body suits because of the high temperature and flames inside. Not having enough protection can lead the workers to the server is injuries and even death. The same goes for the electric cables and fuel lines inside. They need a protective guard or shield so that they won't be damaged because of the heat and hot molten metal.
Fire sleeving is a type of protection that is made up of orange flexible fiberglass and is covered with top-quality silicon rubber which is used to cover the lines and cables for protection. A fire sleeve has the capability of protecting any cable or wire from constant heat up to 260 degree Celsius. It is heat resistant as well as it can also avoid molten forms of materials up to 1200 degree Celsius in temperature. Apart from protecting the wires from heat, these sleeves also provide them a shield from other damages like scratches or punchers.
Some points to know about the importance of fire sleeving.
Versatile in nature
Fire sleeves are versatile means they can be used anywhere in any company providing your cables and wires long-lasting protection. They are available in different sizes according to the safety needs of the respective company. Whatever the size of the cable or hoses, this protective sleeve has a perfect fit. Because of their durability, they are used in several industries like underground mines, automotive, construction areas, etc.
Preservation 
These sleeves are so durable and protective that they can bear heat up to 260 degree Celsius. They are heat resistant and self-extinguishing which can keep the necessary components safe and secure. They keep these components protected for quite a long time. The fireproof sleeves avoid the cables to be damaged by hot molten liquids, lubricants, fuels, and gases.
Cost-effective
The fireproof sleeves are protective as well as cost-effective which is a good way to keep your company's costs down and work efficiently. The sleeves are long-lasting which saves energy and money. They are so design that those lines which are meant to be cool are kept cool and the lines which are meant to be kept hot remain hot because of the sleeves. Because of the protective nature, the shelf life of those cables increases avoiding the replacement of the sleeves regularly.
Good means of protection
Safety for both cable and the worker is important in those. Extreme environments where gases, fluids, and other dangerous substances are present. The nylon monofilament sleeving is used for these conditions. These sleeves are nonabsorbable tubes that protect the cables and keep them cool even in extreme temperatures which ultimately saves the workers from the contact of naked wires and prevents mishappening like burns and injuries.
Conclusion
Fireproof sleeves are the best means of protecting wires and workers in industries. They can also be bought in different colors which denote. The different signs of danger like fluids, gases, electric cables, etc.